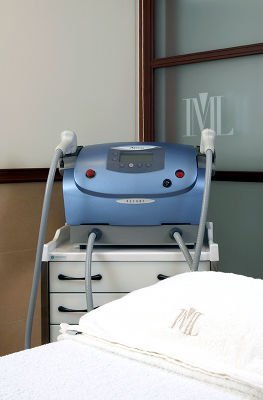 Radiofrequency causes a controlled heating of the dermis and fat tissue, preserving the epidermis from thermal damage.
This heating is due to the rotational movement of the water molecules in alternating electromagnetic fields, the corresponding electromagnetic wave and the tissue resistance to the conduction of the current. Water molecules cause a mechanical effect (friction) that changes into heat.
This provokes a thermal tightening of the fibrous septae, vasodilatation and drainage of the fat deposits into the lymphatic system and heat-induced cell death of fat cells.
After the controlled thermal lesion has occurred and the tissue has retracted, an inflammatory response appears that will be accompanied by the migration of fibroblasts, which will further reinforce the structure of the collagen. This will result in an improvement by way of a diminished protrusion of the subdermal fat at a second stage of the procedure, with the corresponding firming up of the tissues.
During the procedure, the patient may experience a heat sensation or some slight discomfort that will only last for a few minutes. There might be some reddening of the area that will fade away in just a few hours. Burns are extremely rare.
The number of sessions depends on the patient´s condition, although about 12 sessions are usually required.
Request a free informative consultation. One of our physicians will provide you with personalised information of the treatment that best suits your needs.