Consisting of the application of a chemical substance to the skin, with the purpose of the removal of layers of skin, varying depending on the depth of the chosen peeling.
The most superficial (glycolic, HPP, melaspeel, salipeel…) are indicated in cases of slight solar damage (post-summer) or to improve acne, while medium (TCA) and deep (phenol) can be applied to wrinkles and acne scars.
Chemical peeling treatments look to produce the renewal of the coetaneous surface to a certain depth through the application of substances that produce a chemical affectation of the skin up to a different level.
The grade of depth necessary for the peeling to take effect is determined by the deepness of the lesion and the objective to treat.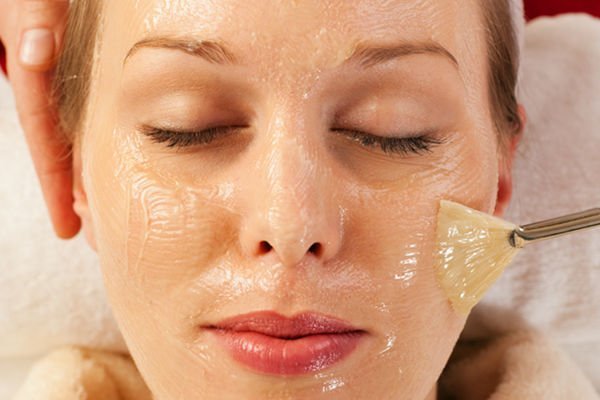 Chemical peelings are indicated in slight solar damage, wrinkles and acne scars
Peelings types
In this way, Peelings are classified as:
Superficial: Glycolic and other Alpha Hydroxides.
Medium: Trichloroacetic up to 25-35%.
Deep: Phenol, Trichloroacetics of 50%.
It must be your dermatologist who decides with you which type of Peeling is suitable. We have to keep in mind that the deeper the Peeling the better the results. With appropriate Peelings we can remove skin stains, many benign pigmented skin lesions like hyperkeratosis of the neckline, hands, and wrinkles. Wrinkles can be completely removed when they are not found in the Dermis Media.
We must not affect the skin deeper than the Dermis Media if we want to obtain a complete regeneration of new, clean, elastic skin with no wrinkles.
You should also know that the deeper the level of the Peeling, the number of days of recuperation and regeneration for the skin is longer: a glycolic peeling allows for the use of makeup immediately following and is practically imperceptible, however medium and deep peelings require a few days of avoiding normal activity. When Medium and Deep Peelings are done it is necessary to maintain rigorous protection from the sun for no less than three months.
Request a free informative consultation. One of our dermatologist will provide you with personalised information of the treatment that best suits your needs.