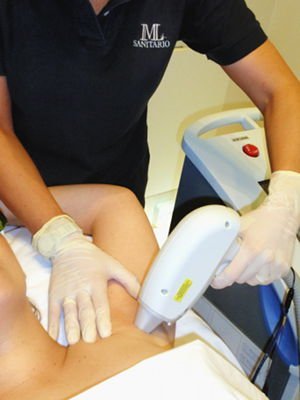 Until 2007, in Spain as well as overseas, the application method for Super Hair Removal with Soprano XL was quite random as far as the number of passes per area, the speed of the pass, intensity according to hair type, etc.
There was no general medical consensus on the best application method and criteria were not scientific based.
This is why, Instituto Medico Laser decided to carry out five safety, efficiency and parameterising studies on the Super Hair Removal technology.
Based on borderline situations with dubious indications, these studies reached the following conclusions:
Borderline hair and skin colours: Soprano XL is the device recommended by IML to treat high risk phototypes. The studies did not register any incidents at all for high phototype skins or darkly tanned skins. In the case of hair colour, the Soprano XL is no efficient in the removal of white hair.
The recommended interval between sessions is 6 to 8 weeks, interval which will increase as the number of sessions applied advances. The interval between sessions is somewhat slower with respect to other laser devices.
It is possible to improve blonde hair removal since Soprano XL has the option of applying complete power the treated surface. This device is a good tool for the elimination of selected body hair after an initial laser hair removal session. IML does not recommend patients with blonde hair to commence treatment, as only a chance of and effective result is possible.
The number of passes needed to eliminate thick hair are less and greater for thin hair. This increase is feasible since the patient will have higher tolerance and less pain.
The appearance of oedema, erythema or pain are not necessary conditions to confirm the efficiency of treatment. In the case of treatment being stopped before the 8th pass, due to pain, there is a risk of ineffectiveness. Nevertheless, at IML we strive for delayed erythema in the treatments.
For Instituto Medico Laser, the best way to envisage the therapeutic level reached in the area consists in maintaining the amount of joules emitted per surface unit so that it is similar in the entire grid. The new Soprano XL device includes a total energy control module that prevents the application of treatment at sub-therapeutic doses, that is, lower fluences that could lead to a reduction of hair size instead of eliminating it. Soprano XL thus corrects the lack of exactness in its application which is one of the main risks in the application of Super Hair Removal technology.
Would you like more information about super hair removal? Contact Instituto Medico Laser now.