Icoone is a skin treatment based on the profound knowledge of connective skin tissue acquired by Dr. Guimberteau in his Structural Medicine studies.
Connective tissue is made up of elastic fibres (amongst which, are collagen fibres) and by a matrix that supports other tissues or organs, such as muscles and adipose tissue. The functions of connective tissue are basically to join and uphold the organism's cell structure.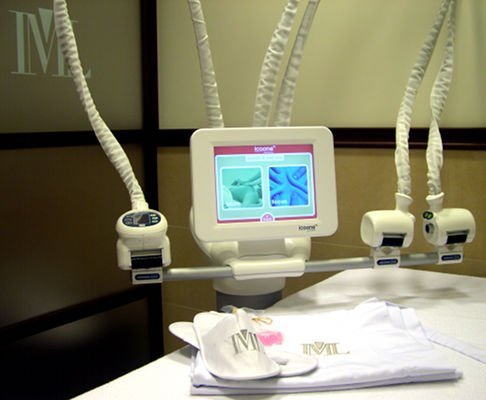 Icoone recovers the natural structure of the tissues
The skin's structure is a dynamic and complex tissue organised under the principles of tension and gravity. This network is attached to a structural module that is repeated, known as alveolar skin structure.
The AMMS (Alveolar Multi-Microstimulation) system in which Icoone is base adapts to the concept of the skin's multivacuolar tissue. This technology generates 1,180 micro-stimulations per 10 cm of skin2 surface. It produces a suctioning pressure applied through perforated rollers that adapt to the skin's alveolar structure. Each roller produces a fragmentation of the void in a safe manner. This makes the tissues recover their natural structure safely since Icoone prevents intense suctioning.
This device has two functional contact units that act in unison, covering the skin with symmetrical movements and providing an ideal treatment of the connective tissue. The rotation speed of the contact units can be regulated, as well as the void pressure; thus personalising treatment to the characteristics of each patient's skin.
With this technology, several daily sessions can be carried out in case of haste to undergo treatment, but Instituto Medico Laser recommends a maximum of three weekly sessions.
Icoone is indicated in the treatment of all those pathologies in which a remodelling of the skin's connective tissue is required, such as with circulatory stasis, fibrosis and scars.
The cosmetics applications that Icoone can improve are:
Cellulite.
Localised adiposity.
Skin laxity.
Anti-ageing skin treatment.
Treatments at IML are personalised according to each patient's characteristics. You can request an informative consultation with one of our medical experts.