An inadequate diet, sedentary lifestyle or endocrine system disorders are all factors that can aggravate excess fat in the abdominal region. Similarly, the intense alterations suffered by skin during pregnancy or following abrupt weight changes can cause loss of elasticity in connective tissue or flaccidity.
Abdominal Laser Lipolysis
In these cases in which the patient presents a small or moderate amount of fat with or without associated flaccidity, Laser Lipolysis or Lipolaser is the most up to date, effective and safe solution. This is a non-traumatic therapeutic tool that eliminates the fat while contracting the skin, with satisfactory aesthetic results.
The main difference with regards to conventional liposuction lies in that it extracts the fat tissue, while Laser Lipolysis heats it to melting point, reducing tissue trauma and making the treatment much more comfortable and safe.
Laser Lipolysis consists of subcutaneous application of two types of laser power: one to dissolve the fat and the other to generate a skin tightening effect to define and flatten the abdomen.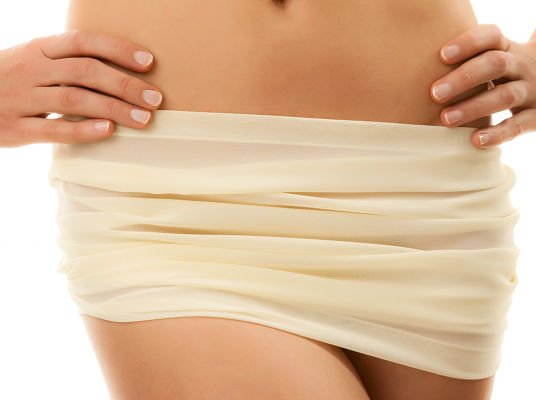 Laser Lipolysis treats localised fat deposits and flaccidity in the abdomen
At Instituto Medico Laser, the Laser Lipolysis technique is performed with SlimLipo Aspire™, an FDA-approved system for laser-assisted lipolysis.
It is an outpatient procedure performed under local anaesthesia and with the introduction of a fine cannula through a small incision in the skin. The end of the cannula has an optical fibre that transmits two wavelengths: 924 nm, optimal for the dissolving the fat cells and 975 nm to produce the skin contraction effect.
This dual power emission system allows the physician to work with the most appropriate wavelength to treat the specific needs of each patient.
The procedure lasts one to two hours. The patient returns home on the same day of the intervention, with a compression corset that should be worn for a week to a fortnight. The postoperative stage is 48 hours.
Benefits of Laser Lipolysis
Faster and more comfortable recovery
Reduced risk of bruising and swelling
Skin retraction
Local anaesthetic, outpatient procedure
Laser lipolysis is a localised fat deposit removal treatment that can also be performed on:
Would you like more information about abdominal Laser Lipolysis? Contact Instituto Medico Laser now.