Photo-modulation seeks a therapeutic effect without the necessity of laser light emissions that produce heat: by stimulating certain receptors it allows the stimulation or the inhibition of certain cell functions.
This is done by focusing on a different treatment than the IPL, Radiofrequency or Laser treatments.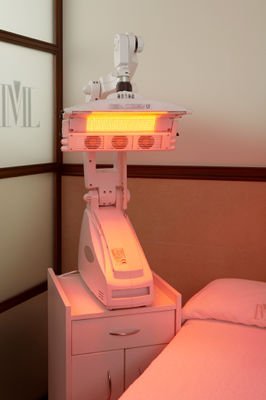 Photo-modulation recovers skin elasticity
Photo-modulation bases its effectiveness on the stimulation produced by the Mitochondria Receptors of the coetaneous cells. Acting on:
Coetaneous fibroblasts.
Coetaneous blood flow.
Coetaneous mother cells.
The stimulation of these three structures encourages:
Growth in collagen synthesis.
Growth of the proteins in the extra-cellular matrix.
Reduction of the degrading proteins in the extra-cellular matrix.
The increase in collagen fibers and proteins of the extra-cellular matrix returns the skin to a youthful structure. The skin recovers its elasticity, the pores close, and it resurfaces, obtaining a great improvement in photo-aged skin. This treatment can be applied to the entire surface of the face, neckline, and hands.
Photo-modulation employs two non-coherent light emitting instruments:
1. LED (Omnilux)
Thin band non-coherent light. Used for the treatments of:
Photodynamic Therapy, if the ALA is used.
Photo-modulation, if the ALA is not used.
This is indicated more when a very intense rejuvenation effect is desired.
2. Gentle Waves
Thin band non-coherent light. Indicated for the rejuvenation of the skin in people aged 30-40, thin wrinkles, etc.
For personalised information of photo-modulation treatment, contact IML now and we will give you a free informative consultation with one of our medical experts.