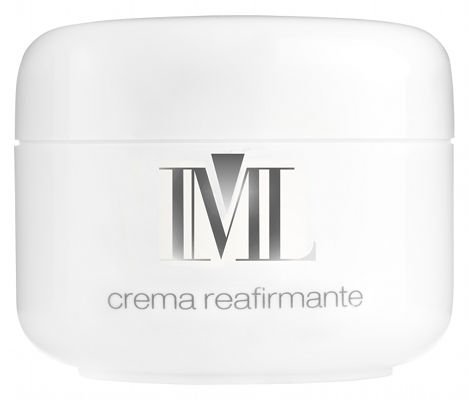 IML Reaffirming Cream is a supplementary cosmeceutical treatment combining its effective moisturising with a nourishing, toning and activator effect on skin circulation. The skin gains firmness, elasticity and tone, with a velvety texture that feels like a second skin.
It offers good results in tense or hypersensitive skins, skin distension during pregnancy and as a pre-breast surgery treatment.
Indications Reaffirming Cream
Specially indicated for lack-lustre, opaque and pale skins and those presenting superficial venous networks in the form of spider veins. Its application is recommended before and after breast surgery.
Active Ingredients of Reaffirming Cream
Glycosaminoglycans: enrich the interstitial space with hyaluronic acid, increase tone and elasticity in the dermal layer and aid micro-circulatory system dynamics.
Phospholipid Liposomes: distinguished by the flexible action on the skin, membrane-stabilising effect and aiding penetration of the other active ingredients.
Native Collagen: is a powerful moisturiser for the surface layers of the epidermis and improves skin tone and elasticity.
Horse Chestnut (Aesculus Hippocastanum): supplies the Aescin-Sitosterol-Phospholipid complex that prevents formation of oedema and increases blood vessel resistance.
Ruscus Aculeatus Extract: rich in saponin and flavonoid derivatives, enhances the anti-oedematous effect of Aescin. Its powerful vasoconstrictive and diuretic actions are notable.
Centella Asiatica: has tremendous skin regenerator properties through stimulation of protein synthesis, which in turn activates cell turnover. Centella Asiatica is especially indicated in treating breast flaccidity, as well as having a major role in anti-wrinkle treatments.
Instructions for Use
Apply twice daily on the target areas: neck, breasts, arms, abdomen, thighs, knees.
The unique composition of IML's cosmeceutical products is distinguished by:
High active ingredient concentration: the herbal extracts, selected for their renowned properties, are used at the highest concentration possible.
High liposome concentration: 6%, an extremely high percentage that ensures optimum penetrability of the active ingredients.
Consistent texture, scent-free, which favours the intensive and prolonged action of the active ingredients.