Rinostep is a compendium of minimally invasive techniques for the correction of specific defects of the nose without surgery, embellishing the face without the loss of a natural appearance.
Rinostep: steps to correct the nose without surgery
Rinostep was born in response to the demand of our patients to achieve an improved nose appearance without resulting in a new or unrecognisable face, as well as to avoid the effect of an operated nose. The surgeons at Instituto Medico Laser in Madrid have designed a series of techniques, complementary each other, aimed at correcting specific nasal areas, without surgery and preserving the personality of the patient's face.
Rinostep refines the nose in those areas where cosmetic problems arise: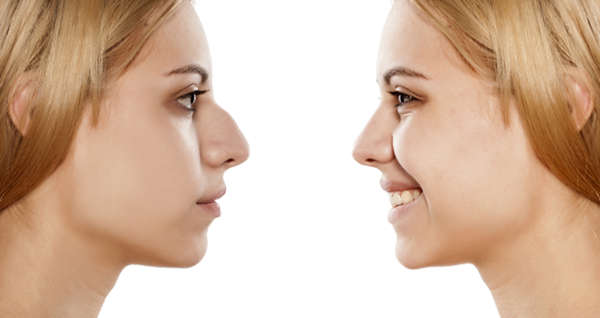 Rinostep corrects some of the aesthetic defects of the nose
Techniques that make up Rinostep for the correction of specific aesthetic problems of the nose are:
Hyaluronic Acid
The choice and combination of different densities of hyaluronic acid and its infiltration at appropriate depths allow for major improvements in low or poorly projected tips, as well as concealing a very pronounced easel, reducing concave brow and correcting the crevices that appear between the back and the tip.

Before and after correction of the cleft between the back and the tip of the nose with hyaluronic acid
CO2 laser
CO2 fractional ablative laser can be applied in two modes: vaporisation and cutting.
Vaporisation eliminates the most superficial layer of the skin to correct thickened skin on the tip of the nose, rhinophyma or bulbous nose.
As a cutting tool, CO2  laser resects or folds the cartilage of the tip to modify its shape, as well as trim wide nostril wings or correct the excess cartilage on the easel.
Resorbable sutures
Resorbable threads, such as polypropylene threads, are used to shorten a very projected nose or dropped tip. To do this, it is implanted from the brow to the apex of the nose.
Botulinum Toxin
Botulinum toxin also helps to perfect some details of the nose. Infiltrated in the base of the nose, it relaxes the depressor muscle, raising the tip of the nose in a very natural way.
If applied on activating muscles of the nasal wings, it creates an effect of reduction of the width of the nasal tip.
If you want to know which techniques are the most appropriate for you, our experts in Facial Cosmetic Medicine will be happy to resolve your doubts.
Contact Instituto Medico Laser now for more information about Rinostep.