Instituto Médico Láser of Madrid of Madrid, has been elaborating reports on the results achieved by medical epilation since 1997, when this new treatment modality appeared worldwide. This rigorous statistical study has served as the basis for lectures and presentations in different national and international medical congresses, in which Dr Josefina Royo has participated along with Dr. Javier Moreno managing director of the centre.
The Institute is equipped with a total of fifteen (15) laser systems for laser hair removal:
5 short pulse Alexandrite lasers.
1 long pulse Alexandrite laser.
1 long pulse Diode laser.
1 short pulse Neodymium YAG laser.
2 long pulse and high potency Neodymium YAG lasers.
2 Epilight (IPL systems).
2 Photoderm-Vasculight (IPL and laser systems).
1 Quantum (IPL system).
The last report elaborated by Institut Médico Láser was carried out on the basis of over 28,000 treated anatomical regions. This study concluded that of the total number of patients treated, 82% were women that remove unwanted body hair mainly from the groin, armpits, legs and face, in this order; and 18% were males that remove body unwanted body hair mainly from the back, beard and space between the brows (frown lines).
The mean number of sessions is from 6 to 8. Nevertheless, the areas that responded best to treatment are the armpits, groin and legs, achieving a hair clearance of over 85% after 3 or 4 spaced sessions, with a time interval between each. This is because the total density of hair to be eliminated is stable and under normal physiological conditions, females do not grow new hair in such areas. In male patients, the most resistant areas were the back and the beard, because of the peculiar matrix that is present in the follicle and because these areas are influenced by hormones, they have more hair of total hair and require approximately double the amount of sessions.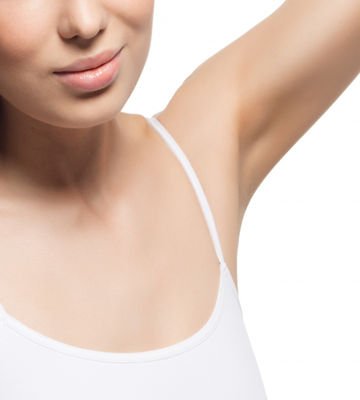 The areas that responded best to laser hair removal are
the armpits, groin and legs
Efficacy increase
On the other hand, 76% of patients treated from 2000-2001 were reported to achieve a total hair clearance in hair density of over 95%. Only two years before, this level of efficacy only reached 50% of treated cases. The remaining 24% obtained between 80 and 85% hair clearance. These patients continue to be treated at 4 or 5 month intervals and their expectations is to achieve the wanted results in a total of 12 sessions, a little above of the mean which is between 6 and 8 sessions.
The reasons why some treatments extend longer in time than others because, require more sessions or a longer follow up period are: skin sensitivity, the degree of tolerance to discomfort produced by the laser, the type of melanin type of the hair and skin, the depth of the hair and the gender. Nevertheless, the degree of patient satisfaction is about 95%, both for men and women.
This is the largest study carried out in Spain on medical laser hair removal and it has helped to discard some of the theories which were up until two years ago believed to be correct. Contrary to what we had thought, experience has shown us that it is possible to destroy hairs in the telogen phase, that is, hairs at rest. Furthermore, the utilisation of high doses of energy, two or three times above the normal range, allow us to reach better clearance than what is currently achieved. IML collaborates on a regular basis in clinical trials prior to submission to FDA (American agency responsible for approving the use of drugs, cosmetics and foods). IML also collaborates on a permanent basis in research projects with the Spanish CESIC (Centre for Higher Scientific Research and Investigation).
Hair removal in men
The percentage of male patients that have began to use laser hair removal has increased in recent years. Now, nearly 20% of our patients are men. The most epilated areas among men are as follows in a decreasing order:
Lower band of the beard.
Back and shoulders.
Thorax and abdomen.
Space between eyebrows (frown space).
Ears.
Hands.
Cheeks.
Other areas such as legs, arms, thighs, etc.
We must admit that current fashion trends show men that have had all their body hair removed. As an illustration of this, men in fashion shows wearing swimming trunks or in TV ads display completely clear and shiny chests. This is the reason why one of the most commonly epilated areas is the back and shoulders, and the reason why younger and younger males seek treatment.
Males who have hair on the back and on the chest start to grow hair around the age of 20 and are physiologically able to continue to grow hair until they reach the age of 50. This means that the hair density that a young male presents over the trunk is not stable. Males who remove hair from these areas must be informed that a touch up session might be needed every few years or so to regain a totally clear area.
Moreover, the dermis of men is usually thicker and hair is located deeper. On many occasions, there is more than one dermal matrix per each follicle. Because of these characteristics these hairs are somewhat harder to remove. Lasers that afford the best results in these cases are those with a longer pulse length (for thicker hair, these systems are more efficient) and a larger (more penetrating light) spot size (impact). Furthermore, hair density per sq centimetre in males is greater, with a larger amount to destroy, making it necessary to have to undergo more sessions.
Problems wish shaving and the irritation produced by friction with shirt necks are the main reasons why men seek epilation solutions, especially in the lower portion of the beard. For some of our patients shaving can become quite uncomfortable due to the strength and density of the beard. Some of these patients choose to eliminate hairs completely, whilst others prefer to undergo a few sessions to weaken the hairs sufficiently to make shaving less problematic.
In terms of hair removal from the space between the brows and from the ears, it is carried out in older patients, when they start to grow hair the auricular region, becoming longer and thicker. Buttocks, hands, and legs are not as popular, but in general terms, hair can be removed from the same areas in men as in women. Because hair removal lasts for over two and a half months after each laser session, it is quite common for men to undergo a laser session just before the summer so that they can enjoy the absence of hair during the entire summer months.
Dr Josefina Royo
Instituto Médico Láser
Would you like more information about laser hair removal? Contact Instituto Medico Laser now.